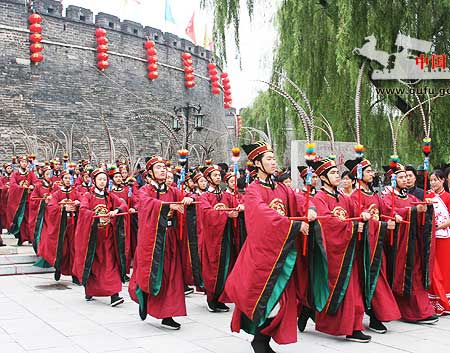 According to a press conference held yesterday in Beijing, the 2015 China (Qufu) International Confucius Cultural Festival will open on Sept 26 at the great thinker's hometown Qufu in Jining city, Shandong province.
Organized by the Ministry of Culture, Ministry of Education, China National Tourism Administration and the Shandong provincial government, jointly hosted by the Jining municipal government and Qufu municipal government, this year's Confucius festival will commence with a grand opening ceremony, which is also the 10th awarding ceremony of the UNESCO Confucius Prize for Literacy.
The prize, established in 2005, aims to reward those individuals as well as organizations that make outstanding contributions to wiping out illiteracy, especially in rural areas and among out-of-school youth, women and children. It is also worth noting that it is the first international award that is named in honor of a Chinese person.
The core activity of this year's event is still the ceremony of worshipping Confucius, which consists of various ancient singing and dancing performances at the Temple of Confucius. This part best exemplifies the cultural essence of the festive event.
Academic seminars also make up an integral part of the event. The 7th World Confucianism Conference will be held, at which topics like "Confucianism and modern value system", and "Confucianism and soft power building" will be discussed by over 150 experts and scholars.
The Confucius Culture Festival is an annual event, and is not only a way to commemorate the great thinker and philosopher, but also a good opportunity to introduce traditional Chinese culture to the world.
China (Qufu) International Confucius Cultural Festival kicks off