A terraced field is a piece of sloped plane that has been cut into a series of successively receding flat surfaces or platforms, which resemble steps, for the purposes of more effective farming. It is a typical landscape in South China. Some of them have been developed as tourist sites. People whoever have visited the terrace are impressed by its unique and magnificent landscape.
When is the best time to photograph?

The terraced field takes on different looks at different time of the year. The best time to take a photograph is when the field is filled with water. Hani Terraced Field will be filled with water from December to April next year. Longji Terraced Field will be filled with water in May or June. Autumn is also a good season to take pictures in the field. In autumn, the rice will be ripe and the colour of the field will turn to golden yellow. Another season is summer when there is green everywhere in the field.
The most famous terraced fields in China are Longji Terrace in Guilin and Hani Terrace in Yuanyang.
Guilin Longji Terraced Field

Longji Terraced Field is perhaps the most famous terrace in China. It is located in Longsheng County, the north of Guilin. The name Longji literally means Dragon's Backbone.

The main scenic area of Longji Terraced Field consists of 3 parts. They are Dazhai Jinkeng Terrace, Ping'an Terrace and Longji Village. Tourists usually choose one of the terraces. Dazhai Terrace is larger than Ping'an Terrace. It takes about 1 day to visit Ping'an Terrace from Guilin downtown. After the tour, tourists may return to the downtown in the afternoon. For the more magnificent Dazhai Terrace, it is advised to stay overnight in the scenic site. There are 3 scenic spots in Dazhai Terrace. The No.1 scenic spot is a place where tourists could watch a sunrise. The No.2 scenic spot is a perfect spot for photographing. No.3 scenic spot is on the top of a hill, which is a place for watching sunset and there is cable car available. In fact, once tourists enter the scenic site, there is beautiful terraced fields everywhere. Tourists could just walk along the stone pavement to enjoy this man-made masterpiece combined with nature. View a Guilin terrace tour.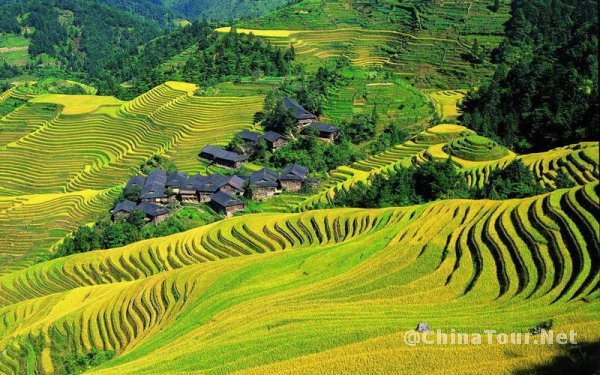 Honghe Hani Terraced Field

Honghe Hani Terraced Field is located in Yuanyang County in Yunnan Province. It has been inscribed as a World Heritage of cultural landscape by UNESCO in the year of 2013. Whoever come here would be impressed by its spectacular landscape. The whole scenic area consists of several parts. The through ticket of all the attractions is CNY100 for 1 day, CNY180 for 10 days and CNY360 for a year. View a Hani Terrace tour.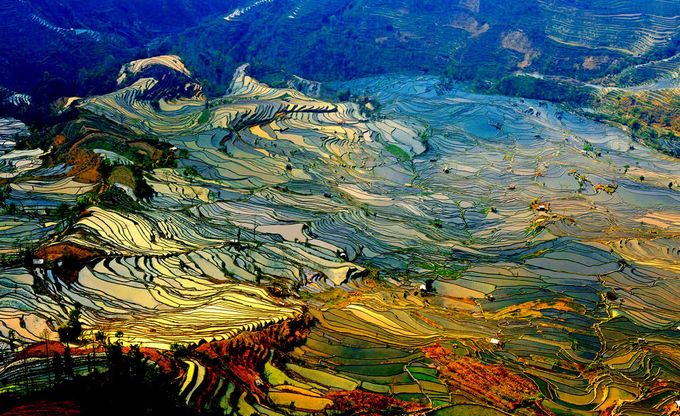 There are also other amazing terraced fields in China, such as Jiabang Terrace in Guizhou, Jiangling Terrace in Jiangxi, Youxi Terrace in Fujian, Gaoyao Terrace in Guizhou and etc. Many of them have not been developed as a scenic site. Longji and Hani Terrace are best choice if you would like to visit terraced fields in China.
Amazing Terraced Fields in China