Spring is a season when trees begin to turn green and flowers start to blossom. With large areas of cole farms in rural places, China is a good place to watch cole flowers. The flower season is usually from February to April aacording to different places. The following is a few places worth visiting.
1. Luoping

Luoping is located in the east of Yunnan Province. The Cole Flower Festival of 2015 is from February 8th to April 23rd. The landscape of Luoping is typical Karst. When the flowers blossom, the mountains and the bright yellow cole farms form a picturesque scenery. Book a Yunnan tour.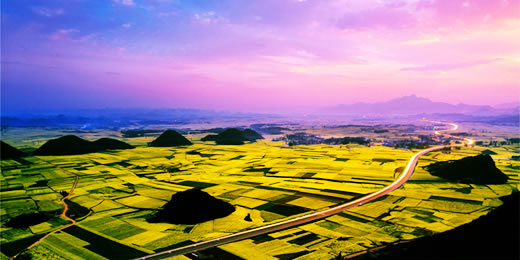 2. Wuyuan
Located in Jiangxi Province, Wuyuan is said to be the most beautiful village in China. It is also a constituent part of ancient Huizhou. The residence of the village is the typical architectural style of Ancient Huizhou. Each house is built with black tiles and white walls. There are exquisite carving on the wooden windows, pillars, tables and stones. The best time to watch the cole flowers is from mid-March to late April. The back and white houses and yellow flowers set each other off beautifully.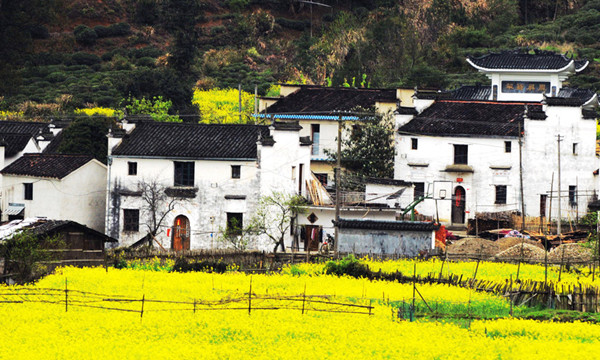 3. Hanzhong

Hanzhong is located in the southwest of Shaaxi Province, which is about 270 kilometers southwest of Xian. The flower season lasts from late February to early May. The cole flowers are at their best during mid-March and mid-April.
4. Xinghua

Xinghua is located in the center of Jiangsu Province. Its history dates back to two thousand years ago. The cole flowers start to blossom in late March and at their best in early April. One thing makes flower watching in Xinghua different from others is that the flowers are growing on the islands. There are hundreds of islets full of cole flowers on the lake.
5. Qinghai Lake

Qinghai Lake is about 130km away from Xining City, Qinghai Province. There will be cole flowers blossoming along the Qinghai Lake in July. Due to the climate of Qinghai, the flower season is much later than other places in China. If you didn't catch the spring blossom of cole flowers, then Qinghai Lake would be your best choice. Another famous place for flower watching in Qinghai Province is Menyuan. The flower season is usually from July 5th to 25th.
Watching Cole Flower-Enjoy Spring in China