On the map of the People's Republic of China, there is a place looks like a flying swan with spread wings while its provincial capital resembles a dazzling pearl under the neck of the swan.The pearl is Harbin,which has a temperate monsoon climate with four distinct seasons, but claims to be best in summer and winter, especially winter.Book a Harbin Tour
As the capital, it is a heart cross point of politics, finance and culture; a picturesque city with beautiful Songhuajiang River going through it. Known as "Oriental Moscow "or "Oriental Pairs". The northeastern city of Harbin is known as a "City of Ice".
Harbin is best known for its appealing winter landscape, stimulating winter sports and various dazzling ice and snow art works, such as ice lanterns, snow sculptures and ice carvings Ice and Snow wonderland first built in the year 2000 on Frozen Songhua River makes up the most recognizable landmark of the city in winter, now the wonderland is build on the north bank of Songhua River.
Harbin International Ice and Snow Festival is held annually from January 5 to February 5. But the Ice and Snow World always open from Christmas Eve. Boasting the world's largest man-made ice and snow buildings, the exhibition is built on the northern bank of the Songhua River and covers an area of more then 300,000 square meters. A total of 80,000 cubic meters of ice and 120,000 cubic meters of snow are used in the park. Once you step on the land of this city , and seeing the world's largest man-made ice and snow buildings, you will be subdued by the amazing project!
Harbin Travelling Overview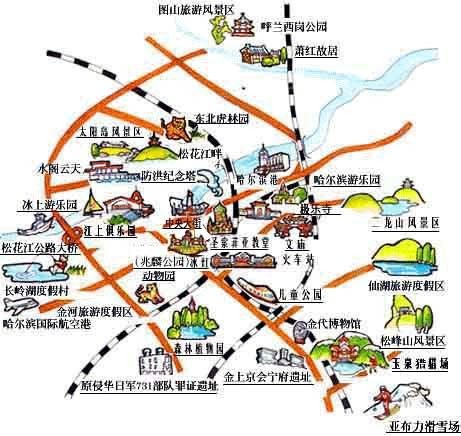 English Name: Harbin

Chinese Name:哈尔滨

Time Zone:?UTC/GMT +8 hours (the whole China is set to Beijing time)

Coordinates: 44°04′-46°40′N 125°42′-130°10′E

Minority Nationality: 48
Harbin