Located at the boundary of Yunnan Province and Sichuan Province, Lugu Lake is just like a crystal diamond hidden in the

mountains.  It is 2690 meters above the sea level, also known as the pearl of the plateau.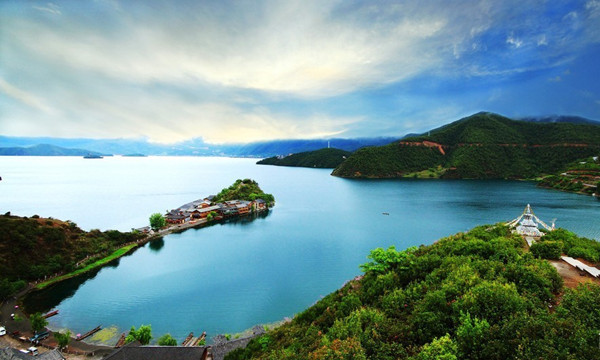 Mosuo is a branch of Naxi People. One thing people fancy about this place it is not only because the beautiful landscape, but the unique culture of marriage, which is called walking marriage or visiting marriage.  Walking Marriage is a tradition of Mosuo people. When a man and a women are in a long-term relationship, it can be regarded that they are in a walking marriage. However, they do not live together or make up a new family as normal couples do. They still live with each one's family. They usually meet each other at night. When they have children, the children will be raised by the mother's family, not the father's. The father will raise his sisters' children.
Lugu Lake is about six hours' drive from Lijiang. There is no train or airport at Lugu Lake for now. Luckily, an airport is being built at the moment. It may be come into operation in the year of 2015. There are buses travelling between Lijiang and Lugu Lake everyday, usually depart in the morning and arrive in the afternoon. The ticket fare is CNY100 for a one-way ticket and CNY200 for a round ticket. 
There are usually three ways to go sightseeing at the lake.

1. Rent a car. There is a road around the lake. You can enjoy the scenery along the way and stop for every scenic spot.

2. Rent a electric motor car or bicycle. Travel around the lake by yourself.

3. Hike around the lake.  It is about 76 km around the lake. If you hike around the lake, you should spare at least 2 days for the hiking.
Lugu Lake