Xizhou town is located in the north of Dali City. The history of Xizhou dates back to over one thousand years ago. There are over one hundred buildings of Bai People built in Ming, Qing Dynasty and the Republic Period. It is a living museum of local

architecture in classically elegant styles. The carvings and decoration on the eaves, doors and windows are exquisite.

Yan' Compound is a must for tourists visit Xizhou. It was built in the year of 1919. It covers an area of 2478 square kilometers. It is made up of 4 courtyards together as a whole.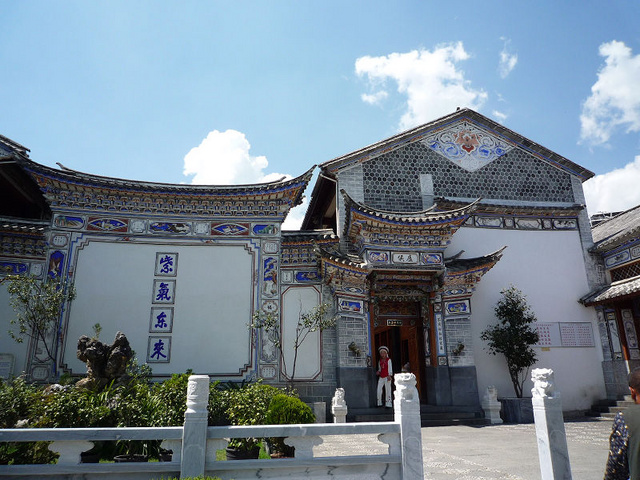 The Bai houses are very distinctive. Entering Xizhou, capacious courtyard and peaceful streets treat visitors with calmness and elegance which were typical in the ancient times. The Yan's compound lies in the central part of Xizhou. It is made up of five courtyards from north to south, including Sanfangyizhaobi (compounds with three houses on each side and a screen wall facing the main house), Sihewutianjing (compounds with four houses in the center and five light wells in each corner) and an independent three-storied western-style building. Each of the houses puts great emphasis on designing the front gate of the compound, because it shows the owner's economic status and also is the symbol of bringing honor to his ancestor. Doors, windows and walls are designed delicately and beautifully. The doors and windows are engraved with the figures ofdifferent birds and flowers. The walls are decorated with wash paintings. All of these reveal the superb skills and creative talents of the Bai Nationality.
Besides visiting the Bai-style architectures, visitors also have chances to touch the living styles of the local people, taste their special food, and drink their unique tea. "Three Courses of Tea" is very dainty; it's different from other Chinese tea. The first course smells a little bitter; the second course is a bit sweet (adding candy and walnut pieces in it); and the third course is memorable (with condiments in it). Maybe you have drunk black tea, green tea, jasmine tea or other kinds of Chinese tea, but "three courses of tea" gives you a different feel. It's just like life, bitter first and sweet later. You must taste slowly. Meanwhile, when you taste the tea, you can also enjoy the Bai's singing and dancing performances, and take part in some local evenings and activities. In the day-time, you can go to the commercial center to buy what you want, such as marble wares, which enjoy great popularity among the visitors.
The Bai is a minority reveling in art. The Yan's compound stands for the Bai's traditional residential characteristics and is a combination of Chinese and western architectural style. In 1987, it was announced by the State Council to be one of the third group of State Monuments.
Xizhou