The First Bend of the Yangstze River is located between Shasongbi Village in Shangri-la County and Shigu Town in Lijiang. It has an altitude of 1850 meters. The Yangtze River runs all the way down from Qinghai-Tibetan Plateau to Yunnan, going through the mountains and valleys, then make a sudden turn of over 100 degrees to northeast at Shasongbi Village, forming a "Ω" shape. People call this spectacle "the First Bend of Yangtze River".
Book a Local Tour
Shigu Town, literally means "Stone Drum", is one of the most famous historic towns in China. It is a place of important military significance. There is a stone stele memorizing the Long March of Red Army on a small hill. It is also the perfect place to have a bird's eye view of the First Bend of Yangtze River.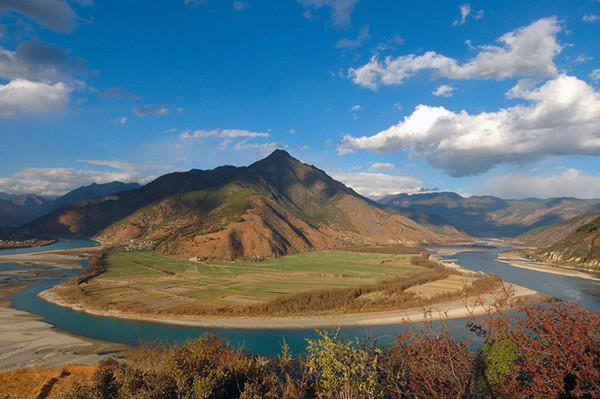 How to get there
The First Bend of Yangtze River is located on the way between Lijiang and Shangri-la. It is advised to visit the place together with Tiger Leaping Gorge. It is only half an hours' drive from Tiger Leaping Gorge. It's best to rent a car to visit these attractions.
For tourists in Lijiang, there are buses available from Lijiang Bus Station to Shigu Town.
The First Bend of Yangtze River