Taken up about one eighth of China's territory, Tibet is quite large with rich culture and amazing landscape. As the capital of Tibet, Lhasa is usually the first destination of tourists. How to travel to Lhasa. Other tourists may arrive at Linzhi, Shigatse, Ngari and other places in Tibet first.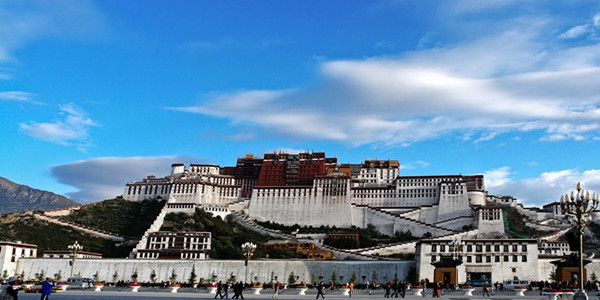 By plane
Flights are available in Lhasa, Linzhi, Shigatse, Changdu and Ngari. Book a Flight Ticket

There are flights available between Lhasa and Beijing, Chengdu, Chongqing, Xi'an, Shanghai and Guangzhou.

For Linzhi, tourists may take flights from Beijing, Lhasa, Shenzhen, Chengdu, Qingdaoand Guangzhou.

The only city that can fly to Shigatse is Chengdu.

For Ngari, flights are available from Lhasa, Chengdu and Kashgar.

Flights are available between Changdu and Lhasa, Chongqing, Chengdu.
By train

The Qinghai-Tibet (Qingzang) Railway from Golmud to Lhasa started operating in July 2006. The journey all the way from Beijing takes about 41 hours, costing 360 yuan in the cheapest hard seat class and 1262 yuan for a soft sleeper. Direct trains to Lhasa originate in Beijing, Xining, Lanzhou, Shanghai, Guangzhou, Chongqing and Chengdu. Be warned that these trains are not for the faint-hearted and the less adventurous type: they do not have Western-styled toilets and bunks are relatively cramped. The main advantage for this mode of transportation is the fact that you could slowly adapt to high altitude conditions instead of a sudden shift if you were to take a plane. Book a Train Ticket
By road
Travelling to Tibet by bicycles have been very popular these years. However, it is not allowed that foreigners travel to Tibet by himself. Foreign tourists must travel to Tibet through an travel agency. If foreigners would like to cycle to Tibet, they must have a tour guide following them. Book a Tibet tour

A Tibet Permit is very important. There are working stuff examine the passport and Tibet Permit. If you are caught by the authorities you will either be sent back (at your expense), have your visa canceled or sent home or in extreme cases banned from ever re-entering China. There are even reports of foreigners being jailed on a temporary basis for breaking travel bans. Keep this in mind! so you has better not take this way to travel to Tibet.
How to Get to Tibet